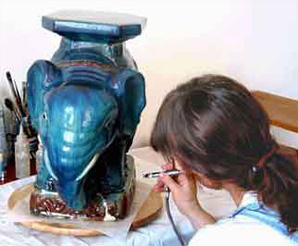 We  will  bring  your  damaged  antiques  and collectibles back to life!
Ceramic and Porcelain Restoration Experts
Get Free Estimate

Restoring Items to Their Original State
Welcome to Luel Restoration Studio where we offer professional, museum-style and invisible repair services for your valuable ceramic, porcelain, china, majolica, pottery, glass, antique or sentimentals.
Run by world-renowned ceramic and porcelain restoration expert Luba Sokolina, the studio's main goal is to provide professional restoration services to clients all over the world.
*Click on the image to enlarge*
Repairing Your Treasures
Luel Restoration Studio offers more than just ceramic and china restoration. We use conservation methods to bond and reinforce the pieces, clean residue of old repairs that may harm the damaged object further, and use only those materials that won't harm the object's structure.
We restore items using the latest techniques in gluing, airbrushing, bonding, pattern/design replication, and glazing in a state-of-the art environment. The process usually takes no longer than three to four weeks. We can also expedite the process if you need to receive the restored item sooner.
Items We Restore
Our specialties include Hummel and Lladro figurines, Flow Blue china, Meissen ware, ceramic vases, porcelain and bisque dolls, earthenware and bone china, clock faces, majolica platters and tureens, picture frames, Tiffany lamps, Imari bowls, glass lamps, replicas and molds, and much more.
Invisible Repair
At Luel Restoration Studio, quality is our number one priority. We know that your objects have great meaning to you and we work hard to ensure that every piece of ceramic, porcelain or china is repaired and restored to only the highest standards. After our restoration you won't be able to tell your item was broken or damaged.
Please note that any professional porcelain repair excludes the possibility of using the repaired items for practical purposes. You won't be able to wash them or keep them outside, where they can be damaged by the elements. Your restored items should be used for display/decorative purposes only.
Contact The Expert
Let Luel Restoration Studio restore your damaged items.
We will bring your valuables and sentimentals back to life in no time!

We look forward to working with you!