LUEL RESTORATION STUDIO — PORCELAIN AND CERAMIC RESTORATION EXPERTS
In Issue # 38 of Beijing Reivew (Sept. 17th, 2008) there was an interesting article by  ZAN JIFANG  titled "In Pursuit of Porcelain".  
We want to look at it from the point of view of Chinese porcelain repair professionals who have been involved in restoration and conservation of ceramic  and porcelain for the last  twenty-five years.
According to Mr. Jifang, "Traditional porcelain crafting has very specific areas of design. This allows each craftsman to become highly skilled in his area of expertise. From shaping and firing to painting, every part of the artwork requires a different pair of hands….Thus, a contemporary porcelain work has more continuity of design, as only one creator is involved throughout the process. Today's collectors find this aspect more appealing than antique ones."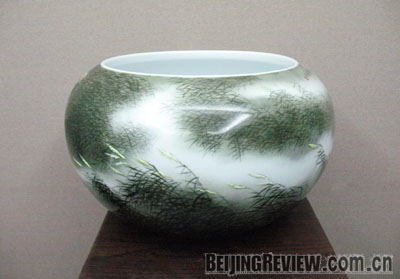 What makes Chinese porcelain valuable? Aside from the artistic value of the work, it's the crafting process. "It basically takes 18 steps to finish a porcelain work. The process becomes more complicated if choosing the clay is included, "says Zan Jifang. "The work should also be associated with the time and reflect the time, which is also called the historic value of an artwork. Only a work that has both art value and historic value is worth investing in."
A porcelain restorer is a craftsman and artist rolled into one. She has to know the history reflected in the work and the process involved in creating it. Mechanically matching and replicating the design won't do it. Restoration and conservation process absolutely involves a historical knowledge and the skills that go into creating and designing a porcelain item. The only difference between creating a porcelain bowl/figurine/sculpture from scratch and restoring it is the flight of artistic imagination, which limits the restorer to work on what's been given to her.
 Luba Sokolina, the restorer at Luel Restoration Studio, is a sculptor and designer, who's familiar with Asian calligraphy and painting. If you have a valuable porcelain item that you want restored, contact us and we'll be glad to work with you. We specialize in invisible and museum quality restoration and conservation. 
 Subject: Porcelain Restoration