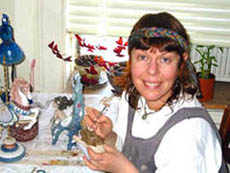 *We Offer Free Estimates*
PLEASE SCROLL DOWN FOR THE REQUEST FORM.
Although we would love to restore your porcelain bowl or figurine, repair your ceramic plate or sculpture, fix your damaged doll, or do a professional, flawless restoration on any damaged item you might have after we provide you with a free estimate via email, you are under no obligation to have our studio repair your items.
Note: If you need to submit a written estimate / invoice to your insurance company and want us to provide you with one on our stationary, the fee for this service is $30.00, which will be automatically deducted from the restoration fee if you decide to work with us.
The client is responsible for insuring his/her items and for postal service fees.
See the Packing & Shipping page for detailed instructions.
Museum quality and invisible porcelain repair and restoration is a multi-step process that requires time and effort, therefore our restoration prices are based on the complexity of the work and the severity of the damage. The value of the item does not affect the price.
Please contact us before sending any damaged items for assessment. We ask that you provide a photograph of the item via traditional or electronic mail, along with the measurements of the item you want to repair, a description of the damage, and any questions or comments you might have.
Within a few days of receiving your request and photographs, we will send you a written, no-obligation estimate, which will include a restoration method that will be used on your piece as well as an approximate fee or price-range for the work.
Please note that the fee is approximate, based on the damage shown in the photos. If you decide to work with us, we will provide a firm quote when we examine the damage, or in some cases, when we glue the broken pieces.  After that, a 35% deposit is required to commence the work.
The restoration process normally takes four to six weeks  (if the damage is very severe, we may require more time to complete the restoration). After the restoration is complete, we will notify you via email and attach photos of the restored item. If you prefer to be notified by phone, please let us know.
Please note: In accordance with New York State Lien Law Articles 8 and Article 9, the client is expected to remunerate Luel Restoration Studio (Artisan) for the work upon completion of the restoration. If the client fails to do so within 90 days from the day he/she has been notified that the work has been completed, Artisan may choose to execute her lien rights with regard to the unclaimed item(s), including but not limited to allowing for the sale of the item to compensate for any unpaid balance for services rendered.
If you need to submit an official estimate on our stationary to an insurance company, let us know and we will provide you with one free of charge.
Please fill out the form below. Attach photos of your damaged item(s) — the entire item and all the broken pieces that you have — and provide the overall measurements of each item. We'll respond with an estimate promptly.
Please note: The fields marked with an asterisk (*) CANNOT be left blank.  You should see a THANK YOU page when you submit your request.
We're looking forward to hearing from you.
References are available upon request.