The Craft of Majolica Restoration
In 1851, a new type of Victorian pottery known as majolica was introduced at London's Crystal Palace Exhibition – an international exposition of the day's "works of industry." Potter Herbert Minton had designed the pottery and his chemist, Leon Arnoux, had developed the process that resulted in majolica's vibrant, lustrous glaze. That multicolored glaze, which needs to be recreated and repainted,  is one of the reasons majolica repair takes longer than the straight-ahead porcelain and ceramic repair.
Majolica pieces reflected the Victorian interest in the natural sciences – botany, zoology, entomology. Pieces were modeled in high relief, featuring butterflies and other insects, flowers and leaves, fruit, shells, animals, and fish. Queen Victoria's delight with the new pottery helped to seal its success with the general public.
In order to be considered majolica, a piece had to have produced by a certain method. Very soft, porous earthenware pieces are fired at low temperatures to what's known as the "biscuit stage." The biscuit has a light yellow color which is covered by an opaque background enamel made from a metal-oxide like tin or lead. When the background glaze has dried, the design elements on the piece are painted with brightly colored metal-oxide glazes and the piece is fired again.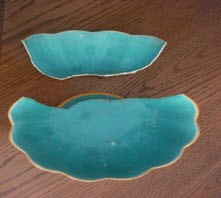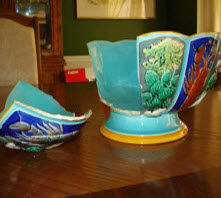 Majolica restoration is similar to ceramic restoration and porcelain restoration. It requires gluing and fusing the broken pieces, matching the color and pattern, airbrushing and glazing. This beautiful majolica bowl had a clean break but a very complex design that had to be recreated.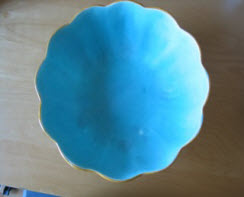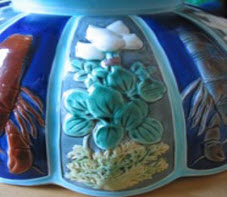 References are available upon request.