Staffordshire Blue And White transfer ware has always been very popular in England. Many middle-class families during the early part of the 19th century were able to afford to have excellent quality Staffordshire pocelain items in their homes due to the production methods employed at the time. The blue cobalt glaze (which is very quite difficult to recreate during restoration)was one of the only under-glazes that could withstand the heat of the ceramic kilns and this was the main reason that most of the work was created in this beautifully deep color. This was one of the reasons that the Staffordshire porcelain pieces were so popular.
Some of the scenes on the pieces were taken from popular books of English prints featuring scenes from Italy, India and other foreign countries. Staffordshire porcelain had a great deal of success with these printed wares, especially in the export market. The pieces are still very sought after by many collectors today and many porcelain restoration experts consider it very challenging to restore.
Visit our porcelain repair page to learn about our services.
This 16″ Antique Staffordshire blue and white plate with great color and details ( c1830) was broken into 17 pieces. Many pieces and small fragments were missing and had to be sculpted. Similar to the majolica restoration below, this porcelain restoration involved gluing, sculpting, matching and replicating the pattern, airbrushing and glazing/lacquering.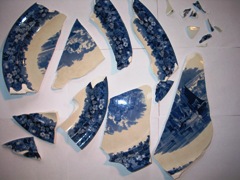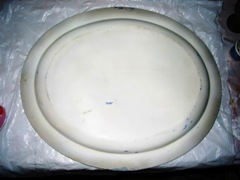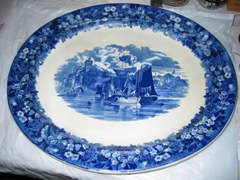 References are available upon request.