According to Britanica Online Encyclopedia terracotta (Italian: "baked earth") is literally any kind of fired clay but, in general usage, a kind of object—e.g., vessel, figure, or structural form—made from fairly coarse, porous clay that when fired assumes a color ranging from dull ochre to red and usually is left unglazed. Clay is one of the most universal materials known to humans. Throughout history and around the world, people have developed the art of forming clay to make ceramic objects, or pottery. Clay is made of water and earth. It is formed into different shapes. Then high levels of heat harden it to produce many kinds of ceramics. Different kinds of clay contain different minerals such as silicon or iron dioxide. The kinds of minerals in clay affect how soft or hard it is to work with. The mineral content of clay also affects the temperature level at which it hardens.
Pottery is often very different from country to country and can also be very different within areas of the same country. In Mexico every region has a different clay tradition. In one part of Oaxaca, for instance, potters have been making black clay containers in the same way for centuries. In another area of this state, pottery for cooking is made with a shiny green coating. Nearby, artists make female figures out of orange clay.
The Aztecs summed up the art of pottery in the following way:
"A good potter:
he puts great care into his work,
he teaches the clay to lie,
he speaks with his own heart,
he brings life to things,
he creates them,
he knows everything as if he were a Toltec
he makes his hands skillful."
(See Fine Mexican Ceramics site)
Luba restored the Mexican Oaxacan Clay Statue below for an anthropology professor from Boulder, Colorado, who purchased it from a collector in Mexico City. The statue was severely damaged during shipment and Luba had to sculpt many fragments and micro-fragments to have the remaining pieces come together.
Unlike hard-paste porcelain restoration, terracotta restoration, due to terra-cotta's porous nature, requires several more steps during the gluing and fusing process to make sure that the statue doesn't deteriorate over time. After all the pieces were glued and adjusted, Luba and her assistant matched and replicated the original color and pattern, after which the statue was airbrushed and glazed.
The statue is now on display in the professor's home in Boulder.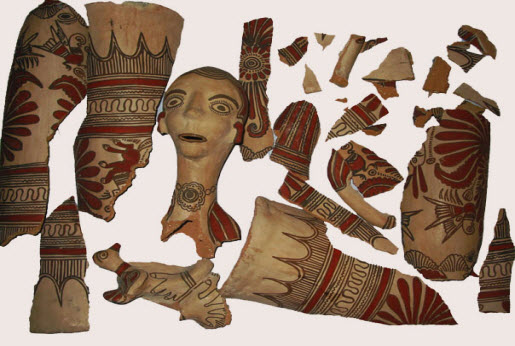 References are available upon request.