All Types of Glass, Majolica, Ceramic, and Porcelain Repair and Restoration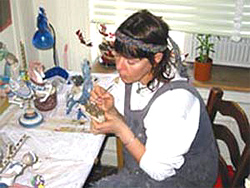 Dear Luba,
Am so excited! The Hummel arrived today and it is perfect. The miracle restoration you provided brought tears to my eyes. I could not be happier.
You told me that the repair would be so good that I would not be able to tell where the breaks were and you were absolutely correct. It was worth every penny. Its sentimental value far exceeds any monetary one, because it was purchased by my parents to represent my sister and me. Since she, along with my parents, is deceased, it comforts me to have it as a remembrance.My heartfelt thanks to you!
Sincerely,
Kathy Mackey,
Lisle, NY
Dear Luba and Alex,
The doll arrived this morning. I carefully unpacked it
and found it in excellent shape, just like I remember it before the accident.
Thank you very much for the restoration and the service. We will be most careful from now on. But if we ever need your help in the future, we know where to find you.
P.S. My wife does not want to see it now since she would like a glass of champagne in her hand for
the viewing 🙂
Sincerely,
Philip Reynolds,
Williamsville, NY
To see photos of Philip's doll click here
Dear Luba,
The music box was delivered today. It looks amazing! It even played its tune for us as we took off the final wrapping. Thanks, again, for your restoring this precious heirloom. It means so much to Jane, as it was originally her mother's. We will certainly keep you in mind if we, or others we know, need your services.
Take care, and "THANKS" again.
Warmest regards,
Jane and Jerry Kyle
Chapel Hill, NC
Luba: FedEx just delivered the
Lladro  you restored
and all I can say is "WOW!!!!!!"  I cannot tell that the Lladro had ever been damaged.  You clearly do outstanding work and I would not hesitate to recommend you or use you again in the future if the need arises.  I greatly appreciate your outstanding workmanship as well as the care used to pack the figuring for shipment back to me.  Thank you, thank you, thank you for everything!
Howard Levenson
Naples, Florida
Dear Luba,
I received the restored buffalo by mail several days ago.  Your restoration of the buffalo is the most amazing hand-held thing that I have ever seen.  It is a wonder.  The repair is perfect even under the scrutiny of a jeweler's loupe and with the repaired area held in bright light.  You have created a work of pride for me and I thank  you. I wish you and yours all of the best for the holidays and through the new year.
Sincerely,
Peter Myers, San Francisco, CA
Dear Luba,
Words cannot describe how appreciative I am to you for the most professional and expert way in which you approached my situation, and how you went about helping me to repair the lamp in such a refined and expert fashion. Both the workmanship and way in which you helped me were skilled to the highest degree. I wish you much success in the future, and of course if there is anyone that would like a reference of my experience in working with you, don't hesitate to contact me! My best to you, in much appreciation.
Debbie Weinberger, Teaneck, NJ
Luba and Alex,
I received the lamp today. Wow, what a great job, My wife is going to be so happy. Thank you very much for the wonderful job.
Take care and have a great holiday.
Ken Nelson, Annapolis, MD
Dear Luba:
I just received my statues, and wanted to take this time to thank you for the beautiful and professional restoration job. You are indeed very talented, and I appreciate all the time and effort you put into restoring them. I can now sit back and enjoy looking at them.Thank you again,Sincerely,Stephanie Salony, New York City
Dear Ms. Luba,
I received the vase and it's in excellent condition. Your skill is be incomparable and beyond imagination.About origin of the vase. This vase is part of the private collection of His Highness Prince Sonapandita, the son of King Rama V of Thailand. It is collected in four claws dragon set, in the golden age of Siam Blue and White. Nowadays this collection is my heirloom.In the name of my family, I want to thank Luba, Alex, and staff of Luel Restoration Studio for your outstanding work. My Grandmother will send a formal "thank you" letter with the Royal Seal to you.Hope to works with you again.
With best wishes,Thanaphan Khajornphan
Bang Sue Bangkok, Thailand, 2010(See the Recent Projects page.)
Dear Luba,I intended to write you sooner, but have been busy and time just flew away. I just wanted to tell you what a great restoration you did on my majolica standing boy with tray. He's now standing on a tall pedestal in my living room. I talk to him as I pass him by. He's in a perfect place in a beautiful room. Your artistry is superb and this restoration is something to be proud of. We wish you many more successful years.Sincere regards,
Bernice and Nathan Ritzer, Long Island, NY
Dear Luba,
You may not remember me but I'm hoping you haven't fixed too many squirrels and might recall this item. Several months ago, you fixed a squirrel figurine that was badly damaged. He sits by the window in our kitchen and every time I look at him, I am amazed at the quality and perfection of your work. You truly are gifted and I want to thank you so much for fixing the squirrel. It is so nice to know that there is someone out there that can perform work of this quality. I understand why so many people speak so highly of your work. Thanks again for putting him back together! I just wanted you to know that your talent and work continue to bring enjoyment.
With great appreciation,
Carol Venanzi, Springfield, VA
Hello Luba,
We received the restored cup today. I had to put a sticker on the bottom to identify which cup you restored. It is absolutely perfect and indistinguishable from the rest of the pieces.Your skill is almost beyond belief.Best wishes,
Howard Gillis, Shalimar, FL
Dear Luba,Thank you so much for the extraordinarily beautiful work you did on my flower. It is perfect and I am so happy to see it on my table all in one piece again.
I will be certain to give your name to my family and friends in case anyone may have something in the future for you to repair.With best wishes,
Sherry Mulcrone
Bradenton, FL
Dear Luba,I would like to say once again that we really appreciate the work you have done. It looks GREAT! The owner was very ecstatic to see it again and that there were no signs of it ever being broken.Thanks,Magnolia Bustamante
Gali Service Industries, Inc.
Bethesda, MD
Dear Luba,I received Her and she is beautiful. What a gift you have and thank the good Lord I found you. Being from Ca I had no idea where to send her. Our family is still taken aback with the flawless restoration. Thank you for giving me back my grandmothers bisque doll in perfect condition. Have a wonderful Christmas and a happy New Year. I know there will be many more happy doll parents in the coming years!!!!! Love Sue.Susann Flynn
Sacramento, CA
Dear Luel Restoration Studio,Thank you! Received it today. It's amazing! I will definitely let others know of your work. Thanks again!Susan Langnas
Omaha, NE
Dear Luba!Thank you so much for restoring our pitcher! Your work is amazing! All the best to you and your staff!.Robert and Carol Taylor
Bellville, Texas
Dear Alex, dear Luba!I got the Limoges pot from UPS today (Thursday, July 30. 2009); it's SO beautiful, and in perfect shape. And the restoration work is just astoundingly fine. I can't thank you enough for such excellent work and good service.
Sincerely yours,Bruce Carr
Des Moines, IA
Dear Luba,Thank you so much for your great work! The one and only perfect pair in the world is now in the National Palace museum in Beijing, China. In spite of its diminutive size, this little wine cup is a national treasure and one of the most valuable and rare pieces in the museum's porcelain collection. I'm sure you have handled and restored many valuables pieces in the past, and will no doubt restore many more in the future. But this was a true rendezvous with history. Again, I thank you for a superb job! All the best.J.C.
New York, NY
Dear Luba,We just wanted to let you know how pleased we are with the figurine, Victoria, that you restored for us.When I took it out of our curio cabinet with the intention of giving it to our daughter, Victoria) I was shocked to see it shattered. I bought it shortly after Vicki was born with the intention of giving it to her some day. You can imagine my disappointment when I went to take it out of my curio. I have never had anything like that happen before.I was apprehensive about it being fixed. I can't tell you how thrilled I was with the job you did on the figurine. It looked like it did originally. You did an excellent job and we thank you from the bottom of our hearts.Thank you, thank you, thank you…Cordially,Lois and Tom Fagan
West Chester, PA
Luba is a true artist. She took a family heirloom that had been shattered into hundreds of pieces and made it look new. I was rendered speechless by her work. She is worth every penny that she charges.Jack Bradley
New Jersey
Dear Luba:Thank you so much for the outstanding work that you did on my angel statue. I cant believe how wonderful it looks. I could never have told that it was broken. It looks perfect. What a great match up. Even though the piece was not expensive, it had tremendous sentimental value. I am so glad to have found you.Thanks againRosemarie Curcio
Long Island, NY
Dear Luba,My package of (formerly) broken items was waiting for me when I got home from work today. I cannot believe what you have done. Everything looks so perfect – I cannot even see a line where even a crack might have been before. I only wish you had included some business cards in the box so that I could give them to my friends. Your work is just perfect and I couldn't be happier.Thank you so much for your splendid work.Best regards,Julie Schwait
Baltimore, MD
Dear Luba,My grandmother's majolica piece arrived yesterday. I am in awe of the magic you have done putting it back together. You cannot even tell that it was in pieces with chips. What a miracle. I can't wait to return it to my mother. She's coming to my house July 13th. I'll take a photo of her reaction and send it to you.Thank you for your great artistry. I am overwhelmed.Very gratefully,Patricia Johnson
Atlanta, Georgia
Dear Luba,You are a genius! The top arrived and is more beautiful than ever. Many thanks for being able to repair a piece that was precious because it belonged to my mother. Thanks.Bryn Karr
New York City
Hi Luba.The figurines look wonderful. Thank you so much for the superb repair work. There is a lot of sentimental value in the items and I am so grateful that you could repair them for me.thank you again!!!!!Deb Morrissey
Onalaska, WI
Dear Luba,Although I was up until 3:00 A.M. on X-Mas Eve assembling Cinderalla's Magic Talking Vanity for my two little girls, it was your hard work that got the biggest reception at our hour on X-mas morning.I can't thank you enough for repairing my wife's childhood tea set. It meant the world to her.All the best,Dana Gould (and family)
Palo Alto, CA
Dear Luba,My doggie arrived today via UPS… I could not believe how TERRIFIC he looks now!!!! You are the BEST!!!! It was worth every penny!!!Please feel free to use the repair outcome photos for others to see!Thank you!!!!Karen Poret,
Watsonville, CA
Wow! The beautiful pitcher arrived today, safe and sound. We can't get over how beautiful it is, and what an amazing job you did on it! You truly have the gift and your work is magical. Thank you so much for everything. I'm sending you a picture of the pitcher in its new home, along with the round platter that matches it. We are so happy and grateful we found you.The very best,Lynnore and Bob Grow,
Santa Maria, California.
Hello Luba,Mrs. Gardner was very pleased with her plate. Thank you so much. She also has a Worcester Vase, already packaged up and ready to send for you to repair. Please let us know if you can take it at this time Again thanks so much, the plate looks wonderful!!Gwen W. Gardner for Margaret Gardner
Middleburg, VA
Dear Luba,You've done an outstanding job. The chandelier is as good as new. I bought in Germany 25 years ago and I'm not sure how much it's worth now. Probably more than I think. But it's got more sentimental value than monetary. It was my wife's favorite piece, and now it's my favorite. Thanks again.Jason D. Burrow
Louisville, KY
Thanks Luba,I received her yesterday and she looks just great! Thanks for the fine work and hopefully I won't need your services again. I will highly recommend you to anyone who might! Thanks!Penny White,
Whitefish, Montana
Dear Luba,I recieved my perfectly packed giraffes,& am thrilled with your restoration !!I had to look back to my pictures to see which leg had been broken. You are the best !!Sincerely,Martha Johnson
Clarksdale, MS
Luba,I just received the jug, unpacked it and could not believe how well you have repaired it. I would not believe it was ever broken unless I knew. Thanks so much.Anne Scott
Sarasota, FL
Luba,the purple cow has arrived safely. As I was un-wrapping it and seeing it getting closer through the bubble wrap I began to cry….It's beautiful. You will never know what this means to my son and myself! I am so glad I found you. It would have been cheap at twice the price! Thanks you so much. If I run accross someone who needs your services I will gladly give them your info.Cathy Resnick
Dunwoody, GA
Hi Luba,Just wanted to let you know that my piece arrived today and looks fantastic. You did a wonderful job. Thanks for your excellent service.David D.Waddell
Lansing, MI
Hi Luba,I received my horse today. It's beautiful. You did a great job. Thank you so much for taking such a good care of it. I'm so thrilled to have him back!!!Ramona Robertson,
Smyrna, GA
Dear Ms. Sokolina,
The box arrived and everything is perfect. You are an amazing artist to do such beautiful work. It is wonderful to see these pieces like new again.I can't imagine that you're ever at a loss for testimonials of your work, but if you ever need to add one to your list, please count me in.Thanks again!Darrell Vail,
Alexandria, Virginia
References are available upon request.