Porcelain is a hard, translucent white ceramic that has been manufactured in China since the 600s and in Europe since 1700. The Western method making enameled ware is to fire the body and glaze together, hence the term once-fired. The high temperature of the kiln fuses the glaze and the body to make it into one complete unit. The traditional Chinese method is similar to the Western method, except that enamel is added after the first high temperature firing. The piece is placed in a small, low temperature kiln and is fired again.
Because antique china pieces have such complicated and delicate design and texture, only a qualified antique china restorer specializing in porcelain, ceramic and china repair should attempt to restore a damaged item.
For centuries China held the secret to making the finest porcelain in the world. Chinese artisans created white, translucent ceramic ware of such high quality that it produced a musical tone when struck. In his excellent book "Sultan's Lost Treasure," Tung Wu says that "Chinese blue-and-white porcelain owed its excellence to the fine clay available to the Chinese as well as to their high-temperature kilns and the cobalt pigment they used to produce the pieces".
Repair of china and porcelain requires great mastery and experience, because it's almost impossible to recreate the translucence of the fine white porcelain.
J.T., a Chinese collector of Ming Dynasty blue and white porcelain dishes contacted the head restorer of Luel Restoration Stuio, Luba Sokolina, last month. Luba is a known china repair expert on the east coast who has been working with dealers and china collectors for over 17 years. She was recommended to him by John Grillow, an American a museum curator based in San Francisco.
Luba and her team did an invisible repair of three antique china pieces for J.T. One of them was a two-inch wine cup made during the Ming dynasty of the Cheng Hua reign (1465-1487) by the emperor specifically for his favorite court lady, Lady wan. Below is J.T.'s letter to Luba.
"Dear Luba
Thank you very much for your great work! The one and only known prefect pair in the world is now in the National Palace museum in Beijing, China. In spite of its diminutives size, this little wine cup is a national treasure and one of most valuable and rare pieces in the museum's porcelain collection. I am sure you have handled and restored many valuable pieces in the past, and will restore many more in the future. But this was a true rendezvous with history. Again, I thank you for a superb job! All the best. J.C."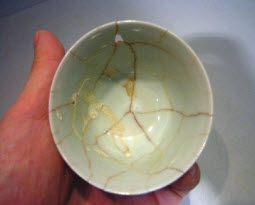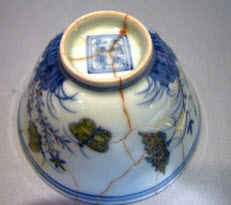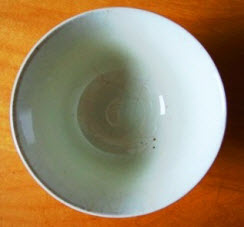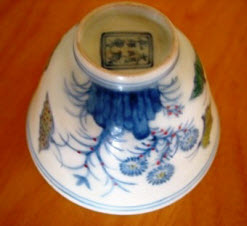 History of China and Ceramic Repair
The history of china repair is almost as old as Chinese porcelain itself. The first documented porcelain item that has been repaired is several thousand years old. Why would anybody want to repair something that could have been easily purchased? As porcelain and pottery quickly became an art form and the technique of making ceramic wares started to get more and more complex, the prices for porcelain items rose and it was more financially sound to repair an existing item than to replace it.
Animal gluing and riveting were the earliets repair and restoration techniques.
Animal glue , which was made from a part of an animal, such as skin or bone, was the most popular adhesive at the time. Riveting or metal clamping was the earliest documented technique for porcelain repair. Although most modern restorers consider this technique barbaric, to say the least, some still practice it.
Last year a gentleman from Portland, Oregon sent us a gorgeous soup tureen, which had to be at least several hundred years old, but which was repaired in the past twenty years, when his cat accidentally knocked it off the display shelf. When we took a layer of paint off to prepair the piece for restoration, we saw three square metal clamps that held the pieces together. Restorers who use rivets claim that they strengthen the damaged china or porcelain item. It's a fallacy. Holes have to be drilled in the porcelain to insert the rivets and then the holes have to be filled, which often creates more damage in the long run. It is probably the most anti-conservational approach to repair and restoration of china.
The type of china and ceramic repair that we use at Luel Restoration studio – gluing and bonding the broken pieces and fragments, sculpting the missing pieces, matching and replicating the color and surface pattern, airbrushing and glazing — is practiced by many restorers today. However, not many restorers have had the same training as Luba (a Sculpting and Design degree from a State Art School in Moscow, Russia) and tend to rely on using pieces from other ceramic items to replace missing parts of the pieces under repair. In addition to the restoration process we use the conservation approach that helps prevent further deterioration of the item.
Take a look at the portfolio of items we have restored in the past. If you have any questions, don't hesitate to contact us.
References are available upon request.