Hummel Figurine Repair and Majolica Repair
Can Recapture The Value of Your Collectibles
Collecting art pieces brings a certain joy to a person's life. There is an indescribable feeling to collecting, hunting for hours on end through countless shops and sales, trying to find that one special piece.
A piece of art can be a sound financial investment, or simply a personal purchase to help bring a certain feeling and style to your home. For the modern collector, Hummel figurines and Majolica pottery offer two valuable ways to touch the past and make a strong investment in your family's future.
Hummel figurines initially referred to figurines inspired by the early twentieth century German nun and artist, Maria Innocetia Hummel. In her free time, Hummel created art based around images of small children. As her art swept Europe, makers of ceramic figurines decided to adopt her style of art and themes. Almost immediately, these pieces became a worldwide sensation. Created and traded among nearly every continent, Hummel figurines have become a universal sensation.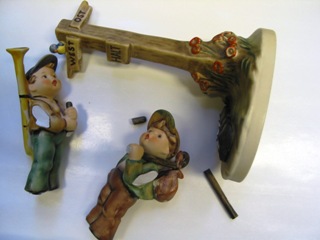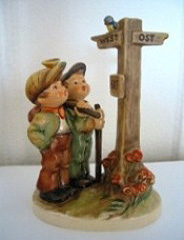 Majolica pottery also has a rich history. Modern majolica pottery dates back to the nineteenth century, primarily in Great Britain and the United States. Due to the particular time in which Majolica began its modern Renaissance, there is a great deal of stylistic variety to the pieces out n the market today. Majolica pottery is known for its unique style and texture, reflecting a certain Victorian sensibility that has not gone out of style.
Unfortunately, unlike classic paintings, Hummel and Majolica art pieces are especially susceptible to damage over time and often require restoration. For art to be truly experienced and appreciated, it must be lived with. To understand the subtly and minor artistic touches of a piece, they must be placed near enough for guests to see and even touch them.
Aside from the normal chipping and cracking associated with any ceramic pieces, these two styles are especially prone to color and glaze damage. Both styles are particularly known for their evocative and distinct use of color. However, this color fades with time and wear and must be maintained.
As time goes on, this wear and tear leaves its mark on the pieces. Despite your best precautions, accidents are bound to happen. However, when the worst happens, all is not lost. Experienced and talented Hummel figurine repair or Majolica repair experts can help restore your pieces to their former glory.
Today, experts, such as Luba Sokolina at Luel Restoration Studio, have learned and perfected cutting edge techniques to perform complete Hummel figurine repair or Majolica restoration.
Like the original artist, these highly trained and talented experts can match the type and style of the original paint and pattern. Furthermore, the trained artist can invisibly restore and repair the pieces to their natural glory by gluing missing pieces and filling cracks.
With all of these repairs, a trained Hummel figurine or Majolica repair expert should also conserve the piece, protecting it from future damage and the inevitable ravages of time that the pieces will experience.
No matter how small the repair may seem, please consult an professional before attempting any home repair. An incorrectly done repair cannot only slow repair time, but can forever damage your piece and make it unable to be repaired. If you hope to recapture the value and appearance of your Hummel figurine or Majolica piece, consult a trained expert today.
Contact Luel Restoration Studio for your ceramic repair needs. Luba Sokolina is an internationally renowned antique and ceramic restorer.
References are available upon request.