Porcelain Repair and Restoration Can Bring Your
Valuables and Heirlooms Back To Life
Porcelain has been a staple of sophisticated households since the earliest Chinese dynasties. For many early years, European kingdoms sought to learn the secret of producing this elegant but durable material for their own use. Invisible Porcelain Repair, however, is a fairly modern practice that started in the middle 1800s in Germany.
Porcelain is hard and largely impermeable, but still has a striking cleanness due to the naturally white color. The strength of this material has made it ideal for creating tiles, table ware, and figurines. When the surface of a porcelain item is properly restored, the smooth feel is not only a pleasure to look at but a joy to hold. Although it's it is naturally resistant to a great deal of chemical ware, which makes it deal for painting or coloring, the product is not immune to the ravages of time.
Invisible Porcelain Repair, known as china restoration, requires matching the fine details of the surface and recreating them with a paint brush. Porcelain repair experts at Luel Restoration Studio have remarkable ways to repair and restore pieces to their original state.
This is a vintage, 19th Century British Staffordshire porcelain dog, restored by Luba Sokolina.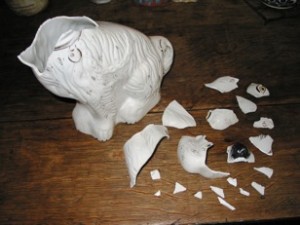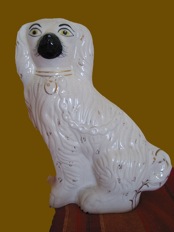 Watch Luba Sokolina do an invisible restoration on a collectible porcelain vase-cum-lamp:
Since one of the most noticeable features of porcelain is its smooth and clean look, cracks and chips can be particularly noticeable. At the first sign of exterior damage, consult Luba Sokolina,  invisible porcelain repair expert at Luel Restoration Studio. Luba has extensive training in porcelain and ceramic restoration, and over 20-year-experience as a porcelain restorer. She will be able to use special, porcelain specific glues and substances that will invisibly fill the crack and chips without changing the object's overall substance.
If the piece is painted with a pattern or overall color tint, Luba is likely able to recreate the piece's original color and texture. The smooth brushing and paint choices will guarantee a uniform, consistent look to the piece, matching it as closely to its original appearance as possible.
For better or worse, this is a fragile product. Known for the ease with which it can break, our porcelain restoration experience can also offer you tips and techniques to ensure your piece lasts for generations to come. Luba can pinpoint weaknesses in the piece before they become problems. Using the most reliable technology, she can strengthen the piece without affecting its value or appearance.
While researching your options is an important first step, it is important to keep in mind that only a trained, skilled expert should be considered for any repair. Keep in mind the professional's hours of experience and education in the nuances associated with restoring valuable pieces. Luba will be able to recognize the tiny imperfections that may be hidden beneath the surface. Today's imperfection could be tomorrow's crack or chip if handled roughly.
An incorrectly performed porcelain repair can lead to more time and money spent down the line, correcting damage done during an amateur repair attempt. In many cases, these poorly done corrections cannot be undone, effectively ending the life of valuable antiques or heirlooms.
Contact Luel Restoration Studio for your porcelain repair needs.
(See Meissen Porcelain Repair)
References are available upon request.